Premières démarches d'installation session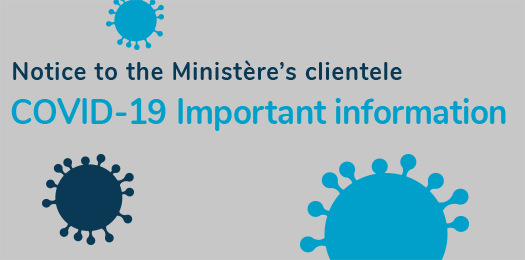 This session is for newcomers to Québec who master French and have obtained, or are in the process of obtaining, permanent residence. It is offered by various partner organizations of the Ministère in Montréal, Laval, Longueuil, Québec City and Gatineau.
The themes addressed during this three-hour session are:
Important documents to obtain (health insurance, social insurance, driver's licence, etc.);
Opening a bank account
Looking for an apartment
Daycare services and registering children for school
The Québec education system
Tax credits, financial assistance for families and income tax returns
The democratic values and the Québec values as expressed in the Charter of human rights and freedoms
REGISTRATION

You can register for the information session Premières démarches d'installation using the new Online appointment scheduling service accessible in the Electronic services section.

Certain organizations offer a drop-in daycare during the session.

Upon your arrival at the Montréal-Trudeau Airport, personnel from our reception service at the airport can also register you for a session, if you have not already done so.

You can also contact the Ministère's Information service.
Sessions in Québec
Group sessions are given in the following organizations:
Montréal
Accueil aux immigrants de l'Est de Montréal (AIEM)
5960, rue Jean-Talon, bureau 209
Montréal (Québec) H1S 1M2


Cadillac + autobus 32 Nord, coin Lacordaire et Jean-Talon or
Saint-Michel + autobus 141 Est, coin Jean-Talon et Valdombre
www.aiemont.com
Drop-in day care centre available on site
Alliance pour l'accueil et l'intégration des immigrants et immigrantes (ALAC)
5165, chemin Queen-Mary, Bureau 350
Montréal (Québec) H3W 1X7


Snowdon
www.alac.qc.ca
Centre d'appui aux communautés immigrantes de Bordeaux-Cartierville (CACI)
4770, rue De Salaberry
Montréal (Québec) H4J 1H6


Sauvé + autobus 180 Ouest, coin O'Brien
www.caci-bc.org
Drop-in day care centre available on site
Clef pour l'intégration au travail des immigrants (CITIM)
1595, rue Saint-Hubert, bureau 300
Montréal (Québec) H2L 3Z1


Berri-UQAM
www.citim.org
Le Collectif
7355, boulevard Saint-Michel, bureau 102
Montréal (Québec) H2A 2Z9


Saint-Michel
www.cfiq.ca
Capitale-Nationale
Centre multiethnique de Québec
200, rue Dorchester
Québec (Québec) G1K 5Z1
www.centremultiethnique.com
Laval
Carrefour d'Intercultures de Laval
1536, boulevard Curé-Labelle, local 226
Laval (Québec) H7V 2W3
www.carrefourintercultures.com
Montérégie
Carrefour Le Moutier
100, place Charles-Le Moyne, bureau 281
Longueuil (Québec) J4K 2T4
www.carrefourmoutier.org
Please note that the sessions are held at Local 260 (2nd floor of the Longueuil metro).
Outaouais
Association des femmes immigrantes de l'Outaouais
109, rue Wright, local 009
Gatineau (Québec) J8X 2G5
www.afio.ca
From May to November
Drop-in day care centre available on site