Men and women have the same rights
Women and men are equal. They have the same rights and the same obligations.
Women can practice the trade or profession of their choice. They are present in decision-making positions such as members of a legislature, mayors, councilors, directors and managers of large companies. They can practice trades and professions traditionally reserved for men. Female workers must receive the same salary as male workers when their jobs, although different, have the same or equivalent value in the company.
This value of equality also permeates the types of unions recognized in Québec. Whether they are de facto spouses, married or joined in a civil union, spouses – be they of the same or opposite sex – are equal before the law. Parental responsibilities towards their children are the same. In the event of divorce from a marriage or dissolution of a civil union, assets acquired during the union and constituting the family patrimony are shared equally between the spouses.
The law requires parents or guardians to give children the security and attention necessary for their development.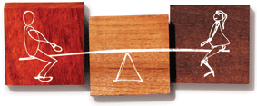 Useful links