A free and democratic society
The political system of Québec is based on freedom of speech and the right to equality of individuals, as well as the participation of citizens in associations, political parties and administrative bodies such as boards of directors.
Citizens can run as candidates in elections and have the right to vote in elections. They elect their representatives at all levels of government. When the government intends to pass legisla­tion, consultations are organized to permit the expression of different points of view on matters of public interest. Hateful behaviour, whether motivated by political, religious or racist reasons, is not tolerated. Québec society favors the resolution of conflicts by negotiation.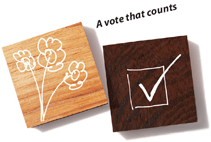 Useful links