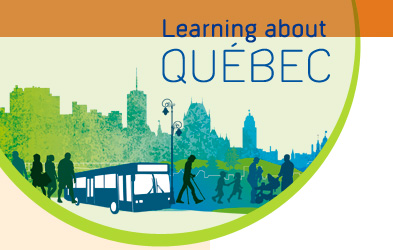 Last modification:
2013-03-22

To consult or print documents in PDF format, you must download Adobe Reader available free of charge on the Adobe website.







Your guide contains a wealth of information on:

Work and finding a job
Housing
The values and foundations of Québec society
Learning French
Reception and integration support services










Learning about Québec
An essential guide for you!
Have you been selected by the Gouvernement du Québec and plan to immigrate soon? Why not take advantage of this waiting period to prepare for your arrival in Québec?
The Ministère de l'Immigration et des Communautés culturelles has prepared a guide, Learning About Québec – Your Guide to Successful Integration, to help you in your transition to a new life in Québec.
The guide has two sections. The first section, What you need to know, offers practical information on everything you need to know before your departure.
The second section, What you need to do, is a personalized action plan that allows you to note the steps you will need to take, both in your country of origin as well as upon your arrival in Québec.
This plan will help you:
identify your objectives and the strategies for meeting them;
take your first steps toward finding housing and employment;
find the resources that can help you in your process.
Watch a testimonial (recorded vignette)




Very useful links

The Learning About Québec guide includes many useful links to the Immigration-Québec website and other official sites and sources of information. These sites will allow you to discover various