Foreign students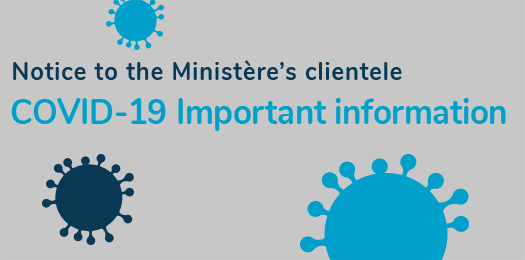 New: Foreign students can now submit their documents required as proof under the Foreign Student Program electronically.

International students wishing to study in Québec in a training program lasting more than six months must be admitted to or enrolled in a designated educational institution, i.e., an institution recognized by Ministère de l'Éducation et de l'Enseignement supérieur or another Québec government ministry, to obtain a Certificat d'acceptation du Québec (CAQ – Québec Acceptance Certificate) and a study permit from the federal government.

Before you apply, consult the list of designated educational institutions.

If the institution you choose is not on this list, you will not be able to study there as an international student. Please note that Ministère de l'Immigration, de la Francisation et de l'Intégration does not refund fees for applications for temporary selection, even in the case of a refusal.
You wish to come to Québec and study here? A typical procedure is suggested below to assist you in your proceedings. Take the time to read it carefully; it will give you a good idea of the steps you will have to take in order to study in Québec.
Your 7-step procedure!
Finding out about studying in Québec
Does the idea of studying in Québec appeal to you? Find out about the advantages of studying in Québec. Learn about the education system, education costs, financial assistance and employment opportunities for foreign students.

Applying for admission to an institution
Have you found out what you need to know about studying in Québec and do you wish to study there? After you've selected a program of study, the first step is to submit an application for admission.

Obtaining the necessary authorizations to study in Québec
Your admission to an institution has been confirmed? Your plan is taking shape, and now you want to obtain the necessary authorizations to stay in Québec? Find out about the steps you need to take.

Preparing yourself before your departure for Québec
You are soon heading to Québec, where you have decided to pursue your studies. Get ready to discover new horizons and a whole new study environment. Take advantage of the time it will take to obtain your study authorizations to prepare yourself. This will greatly facilitate your temporary stay in Québec.

Proceeding with your temporary settlement in Québec
You've now arrived at your destination. Read this section for a brief survey of entry formalities as well as all the information needed to facilitate and to obtain all the information you need to help you with your temporary stay in Québec.

Extending your stay
If you plan to pursue your studies in Québec beyond the term of your authorized stay for studies, remember to renew your authorizations before their expiry date. If you intend to work after graduation, you should read this section as well.

Staying in Québec permanently
Are you in the process of obtaining or have already obtained a Québec diploma, and you would like to settle in Québec permanently? The Programme de l'expérience québécoise (PEQ – Québec experience program) could facilitate your immigration to Québec. Find out about the steps to follow.
To learn more

Visit our page I am staying in Québecfor testimonials of graduates who have become permanent residents.