Education
The Québec education system is comprised of a public education program that ranges from kindergarten to university.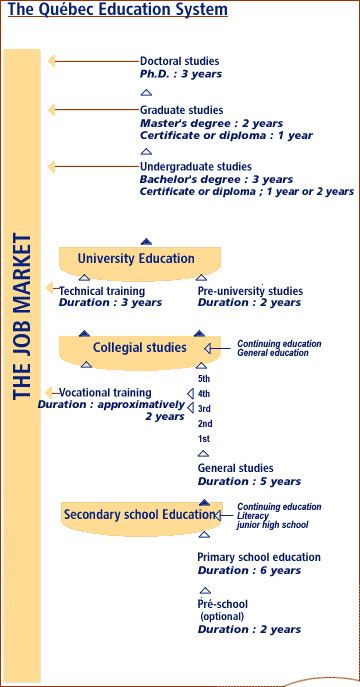 Education is free of charge for all Québec residents from kindergarten to college (cégep) inclusively. The Québec public school system is language-based (anglophone or francophone), depending on the language of instruction used in the school. Since French is the official language of Québec, children of immigrants, regardless of their mother tongue, are usually required to attend a local establishment of the French school board until the end of secondary studies. In addition, mixed gender classes are the norm at all levels of education.
A private network of schools is also recognized by the Ministère de l'Éducation, du Loisir et du Sport. These institutions also offer the official school program. To attend these schools, students must pay tuition fees and fulfill specific entrance requirements.
School attendance is compulsory for all children from 6 to 16 years of age. The school year begins at the end of August or early September and usually finishes before June 24. It lasts at least 180 days.
| | |
| --- | --- |
| | To learn more |